I've MOVED! Join me in my new adventures at Wild Yonder: Field Notes and come see me on Etsy for your natural skin care and beauty needs at Winsome & Green.
The first day of fall has arrived and you know what I think of when I think of this time of year? Comfort, home, family and staying warm and snuggly. I think those upcycled sweater pillows embody all those things in one, don't you? So, for today's DIY fix let's dig up some of the best sweater pillows we can find!
Megan of Brassy Apple knocked this one out of the park:
And Maggie at Midwestern Girl Sewing did a bang up job on these:
And I'm in awe at this beauty by Jamie Nato for Fingerprints on the Fridge:
And how bout this stunner from Heather of Squeezing It All In:
And how cute are this pair from Theresa of Momma T's Place:
Sweater Pillow DIY
I love that no part of the sweater has to go to waste. When you're done doing the pillow with the body of the sweater - take a cue from Stephanie of Under the Table and Dreaming - and make these awesome candle cozies from the sleeves: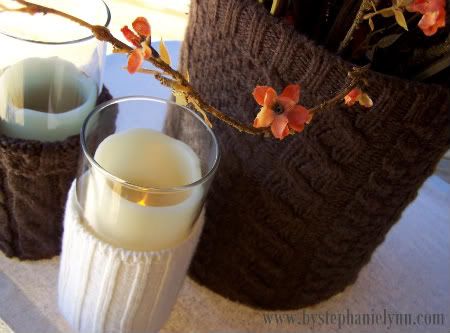 Sweater Vases DIY
Well friends, I hope you've enjoyed and hey, I would love to know if you've tried this project yourself and how it turned out!
xo